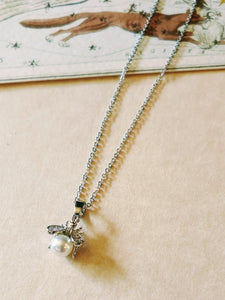 Le Noir Bazaar
Pearl Bee Necklace
Regular price
$19.95
$0.00
A delicate little silver bee is set with a simple white pearl on a 16" silver chain. A simple elegant addition for layering with your summer necklace collection. 
Pearls are the birthstone for June and of course, beloved by Sirens, Mermaids and all others of a watery nature. 
Pearls signify faith, charity and innocence. They help to provide a focus to one's attention and are known as a stone of sincerity. 
According to history and the myths, pearls are symbolic of wisdom gained through experience. The gems are believed to offer protection, as well as attract good luck and wealth. They are well-known for their calming effects. Pearls have a way of bringing balance to your karma.
Featured in our June 2022 Jewelry Box
---
Share this Product
---
More from this collection